Suzuki has been working on a couple of new LCVs: The Y9T, developed mainly for the Indian market, and a larger LCV to replace the current Indonesian-made Carry/APV.
2015 - Y9T LCV
Suzuki has been trying to reach new segments in the Indian car market to increase their presence and status as the market leader. Apart from the utility vehicle (MPVs and SUVs) segment, the light commercial vehicle segment, currently being lead by Tata Ace and Ashok Leyland's Dost, is also one of the new segments that Suzuki's Indian arm, Maruti Suzuki, will attempt to reach.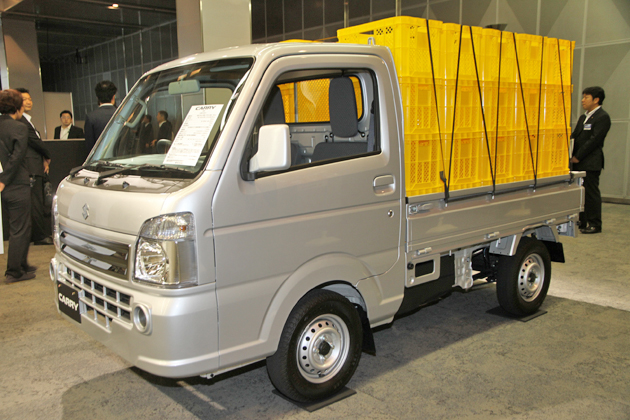 The recently launched JDM Carry
Last year, it was confirmed that Suzuki is working on a new LCV aimed mainly at the Indian market. The new LCV is codenamed Y9T, and will be based on the recently launched Japanese version of the Carry.
Sources from Maruti Suzuki revealed that two prototypes have been dispatched from Japan and are now running various tests at Maruti Suzuki's Gurgaon plant.
The 0.8liter Diesel Engine
Power is expected to come from a choice of 1.0liter K-Series petrol engine, and Suzuki's first ever self-developed diesel engine. The diesel will be a turbocharged 0.8liter unit. The turbocharger will be provided by Turbo Energy Ltd. (TEL) based in Chennai as the exclusive turbocharger supplier for the engine.
Internal sources from Maruti Suzuki are saying that production of the diesel engine will start December 2014, with production capacity of aroung 6600 units a month or 80,000 units a year.

Maruti Suzuki is currently still working on several issued that engine has, particuarly ones related to it's NVH level.
Early 2015 Launch
The Y9T will be launched in the Indian market around January 2015, a year earlier than originally planned. The LCV will be produced at Martui Suzuki's Gurgaon plant. Exports to other countries could commence sometime later in 2015.

Although it has not been confirmed, a people carrier version of the Y9T could also be launched.
2015/2016 - Next Generation Carry/APV
Seiji Itayama, director of PT. Suzuki Indomobil Sales (SIS), Suzuki's Indonesian arm, has confirmed that they are currently working on the next generation APV, which will be launched after the completion of their new plant in 2015.
The current Suzuki Carry, a pick up version of APV, displayed at the 2014 Bangkok Motor Show
The next generation APV is expected to remain available both in commercial vehicle versions, such as the pick up (sold as Carry) and blind van, as well as passenger car versions.
Internal sources revealed that the new APV will have a longer front end, and a sliding door on it's sides. Suzuki has confirmed that the new APV will not be pushed up-market and remain positioned in the low-MPV segment as an alternative to the Ertiga. While the Ertiga is positioned as a passenger car, the APV is positioned as a semi-commercial alternative, focusing more on space and carrying capacity.
Passenger car version of the current APV
Power will come from small capacity engines, possibly a version of Suzuki's K-Series petrol engine. It is not yet known whether the engine will remain positioned under the front seats or moved to the front bonnet.
SIS hopes to launch new APV for the Indonesian market sometime in 2015, or 2016. Exports to other countries would follow soon after the local launch.